Remarks from the June 23, 2023 Meeting of the Board of Trustees
Remarks by Sheri Everts, Chancellor
Good afternoon.
Before I begin my remarks, I'd like to welcome Representative Ray Pickett, of the North Carolina General Assembly. Representative Pickett, thank you for joining us today.
I'd also like to welcome J.P. Neri, our new Student Government President into his new role on the Trustees. J.P. is a junior history major and Chancellor's Scholar from Raleigh, whose original hometown is Guadalajara, Mexico. J.P., congratulations and welcome to the board.
This is a photo of us during College GameDay last year. J.P. shared this photo he took of the two of us after I gave him an App State blanket for his overnight camp out!
It's my pleasure to bring a quarterly update to this board. App State is, as you know, a vibrant, expanding university and today's update reflects our deep commitment to the institution's academic mission, the quality of the App State Experience and service to students and the citizens of North Carolina.
In May, we congratulated more than 3,600 of App State's newest graduates for earning their degrees. On the path to earning their degrees, they learned to innovate, solve complex problems with perseverance and grace and developed a set of skills that will serve them well in the future. We are so very proud of each and every one of them.
Nearly 2,700 undergraduates earned placement on the Chancellor's List for earning a 3.85 or better grade-point average while maintaining a full-time course load during the spring semester.
An additional 4,500 earned a spot on the Dean's List for the spring semester, earning a grade-point average of 3.25 or better.
App State student-athletes extended their strong academic performances during the 2023 spring semester, continuing an impressive streak to reach 22 consecutive semesters with a cumulative GPA above 3.0.
These accomplishments speak not only to the dedication of our students but also to that of the faculty and staff who are committed to their success — helping them discover and explore their intellectual passions and graduate efficiently and with less college debt.
Our students have benefitted from App State's digital textbook rental system — one of the first of its kind in the nation. The e-book program allows students to download and read textbooks and class materials on their computers, tablets and phones. This system has been utilized by 99% of the student population and in the last academic year, it saved our students over $5 million.
Our faculty are regularly recognized for their excellence in teaching, research and service. Earlier this month, Dr. Jay Fenwick, a professor in the Computer Science department and a long-standing member of the Watauga County School Board, was recognized by ECRS, a local business that provides retail technology solutions to retailers throughout North America and the Caribbean. Dr. Fenwick received ECRS' prestigious Golden E Partner Award for volunteering his time and expertise to help the business fully leverage modern Agile methodologies.
On Memorial Day, App State commemorated those who died while serving in the U.S. military with a wreath laying at the Veterans Memorial on the Boone campus. Assistant professor of anthropology and Marine Corps veteran Dr. Seth Grooms laid the wreath in honor of two fellow Marines who were killed in action while serving in Afghanistan.
Dr. Grooms is also a member of the Lumbee Tribe of North Carolina and helped us dedicate the Lumbee flag as a permanent installation in the Plemmons Student Union's International Hallway earlier this spring. Dr. Grooms is also the lead author of a new study that has been accepted for publication in a top-ranked, archaeology journal featuring research from across the world.
I'm proud to share yet another accolade for the Reich College of Education and App State's historic mission to prepare North Carolina's teachers: App State has been recognized by the National Council on Teacher Quality for its rigorous preparation of future teachers in the Science of Reading, one of the most effective methods of reading instruction.
App State's undergraduate teacher preparation program earned an "A" grade in the council's newest report on strengthening elementary reading instruction. Our program is among just 23% of nearly 700 teacher preparation programs to earn an "A" from the council for meeting standards set by literacy experts. Our nationwide evaluation was based on the new changes we've made to our curriculum.
Our College of Education alumni continue to set standards for excellence locally and across the state. Last month, Dr. Leslie Alexander, who earned her Doctor of Education degree from App State in 2018, was named superintendent of Watauga County Schools. We are so proud of Leslie and look forward to continuing a terrific partnership with her leadership. (Incidentally, Leslie is the spouse of Cantey Alexander, vice chair of our Foundation Board.)
Donna Bledsoe, a 1985 App State graduate, was named Principal of the Year by the North Carolina Department of Public Instruction last month. Donna, who is principal of Cedar Ridge Elementary School in Surry County, was recognized for her ability to build community with a focus on student achievement.
Tomorrow, App State's solar vehicle team will depart for Topeka, Kansas, to compete in the 2023 Formula Sun Grand Prix. Team Sunergy will take their multi-year winning vehicle, ROSE, to the Heartland Motorsports Park for a six-day competition that involves a series of limits-testing qualifiers, including handling curves, braking and acceleration. The teams then compete in three days of track racing, vying for the greatest number of laps driven, fastest lap, number of passengers in the vehicle and total average speed — all in vehicles powered by the sun. It's the quietest vehicle race you'll encounter, but that does not diminish the excitement. Team Sunergy has maintained podium finishes in annual international competitions since 2016, and we'll be cheering for them — and looking for another top award for 2023, motivated by their championship rings!
Earlier this month, App State hosted the 11th annual Appalachian Energy Summit.
This event serves as a beacon for government officials, industry leaders, educators and students from across the state and the University of North Carolina System, and I was proud to announce our latest milestone toward the summit's established goal of avoiding $2 billion in energy costs by 2025.
Our latest numbers show that the University of North Carolina System, North Carolina community colleges and other state agencies have realized more than $1.75 billion in avoided energy costs. This progress is even more impressive as we take into account the post-COVID increase in renovation and new construction projects taking place on all UNC System campuses and across the state.
App State has realized more than $71 million in utility savings, combining nearly $56 million in avoided energy costs and more than $15 million in avoided water use costs.
We kicked off this year's summit with a presentation by App State's own National Geographic Explorer and professor of geography, Dr. Baker Perry. Dr. Perry was joined by National Geographic CEO Jill Tiefenthaler. They shared inspirational stories of science and exploration that elicited insightful questions from our students.
I'd like to thank Chief Sustainability Officer Lee Ball for his leadership with both Team Sunergy and the Energy Summit. From workforce development to economic impact, these events are making measurable differences now and for the future.
Last month, App State joined our sister institutions at the UNC System's Legislative Day. We very much appreciate the legislative support for App State, and we're proud to be part of the best university system in the country. North Carolina provides more funding to its public universities than most states in the country. We are among the top 10 in the nation. Thank you, Representative Pickett!
With the new UNC System funding model in place, App State will be evaluated using four main criteria, covering six metrics, which you can see here.


increasing undergraduate student success, as measured by our four-year graduation rate and the proportion of students who graduate compared to the total number of enrolled students;


increasing affordability for first-time and transfer students, as measured by their student debt upon graduation;


improving university productivity, as measured by expenses per degree; and


our four-year graduation rate for Hispanic students, which was our campus-selected goal.
Our funding will be based on how well we perform in these areas compared to our baseline and stretch goals. We expect our allocation to be smaller the first year, but also expect it to increase significantly in year two and beyond.
We are busily preparing to welcome students to our Hickory campus, with a celebration and open house planned for the first day of classes on Aug. 21. Every day brings more progress to the building, and I have been meeting regularly with state and local government officials to ensure we are envisioning the best academic support to meet the needs of the region. More than 14 million people live and work within a three-hour drive of Hickory, and we have much to offer, in partnership with the City of Hickory, Catawba, Caldwell, Burke and Alexander counties, and the other education leaders in the area.
App State is ready to help meet a need for educational attainment in the Hickory area with a high-quality, affordable degree from the premier public undergraduate educational institution in the Southeast. As you can see from this chart, there is ample opportunity for a public institution to help serve the region, along with the area's community and private colleges.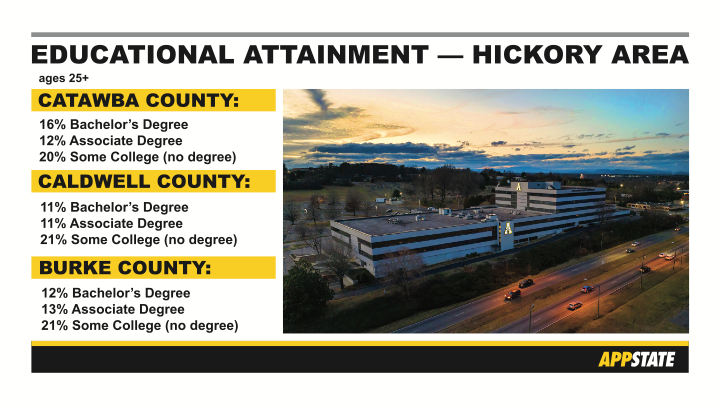 As we prepare to open the Hickory campus, the City of Hickory topped U.S. News & World Report's list as America's most affordable metro area for the second year in a row and ranks 25th among the country's best places to live.
Hickory also ranked as the Number One Most Affordable City to live in and the third Best Place to Live in North Carolina, as well as among the top places to retire in the country.
In April, Vice Chancellor of Student Affairs J.J. Brown participated in a panel discussion at the Future of Catawba County Summit on "How Higher Education and Employers Can Partner to Power Talent Pipelines." In May, Vice Provost of Academic Program Development and Strategic Initiatives Mike McKenzie was a panelist on the topic "How educators are training students of all ages, abilities and professional backgrounds to positively impact the region's workforce" at the Vision Northwest North Carolina economic development summit.
At these major regional events, they were able to highlight the many ways App State continues to serve the people of North Carolina by meeting the educational needs of the region.
One new avenue we have for this is our professional studies degree, which was recently approved by the Board of Governors. Thank you, Governor Byers.
Our professional studies program emphasizes a breadth of study that is designed to strengthen high-demand workforce skills in management, leadership, technology and communication. The online program, which is available to students registered at either campus, has talented faculty members who understand a variety of professions and provide expert guidance to students wanting to advance their careers.
On Aug. 18, App State will partner with six area community colleges and Lenoir-Rhyne University to present an education summit focused on enrollment partnerships.
As with any college or university, enrollment numbers fluctuate this time of year, not just from day to day, but from hour to hour. As do all UNC System institutions, App State reports enrollment figures as of the census date, which is the 10th day of classes in the fall semester. This year, App State's census date will be on Friday, Sept. 1, and we'll report not only general numbers but also demographic information as well, for both campuses. I look forward to sharing this information with you in September.
In the meantime, our early data show that the majority of our applicants at this time are transfer students, which meets our expectations, given that applications opened at the end of last year. Those students who will be first-year students are more likely to be working and/or living at home with their families in the Hickory area.

This slide indicates the top areas of interest for students applying to attend App State at the Hickory campus. These align with the data we have been gathering since we purchased the building in November of 2021.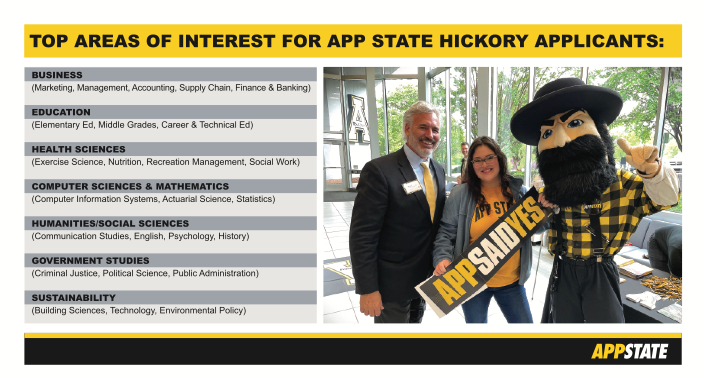 We continue to accept applications for fall 2023 and are still admitting students to both the Boone and Hickory campuses. I think I can safely say that (can't I Troy?), we are feeling very good about our enrollment numbers for the upcoming academic year. In April, we held an Open House event, which was attended by more than 200 prospective students. The highlight of the day was when five students received on-the-spot admissions decisions and were able to celebrate with their families — and Yosef, and our Admissions team was able to immediately begin supporting them with information about next steps.
Legislative support for the Hickory campus has been very strong, and we greatly appreciate the investment from the taxpayers in North Carolina. With the first allocation of $9 million, we are readying the main floor of the building for students and faculty, and focusing on key renovation and repair work.
Work is currently underway to replace the 30-year-old roof with a new, energy-efficient membrane roof that is designed to accept future solar arrays.
We are also repairing and replacing the HVAC system, lighting, plumbing and electrical systems, and the building's automation, fire alarm and control systems.
Installation of significant IT upgrades are underway, including high-speed wired and wireless access, and student workspaces that have the latest in collaborative technology.
We are also completing renovations to the main floor of the building, which will house classrooms, a testing center, workspaces for faculty and staff and common spaces for studying and collaborative work.
And of course, the landscaping is just lovely. A huge thanks to Vice Chancellor Dan Layzell's team for their incredible work. Our friends in Hickory are noticing, and they are very excited about the visible progress being made each day.
Of course, additional capital improvements will be necessary for the continued expansion of the Hickory campus. With the current funding, we will be able to house no more than 500 students. The six-year capital projects plan for App State, which we submitted to the UNC System last fall, includes:


future phases of renovations and construction on the Hickory campus;


replacing I.G. Greer Hall with a state-of-the-art science, technology, engineering and math building;


continued renovations of Peacock Hall, to include a transportation hub and the daylighting of Boone Creek; and


continuing to add academic buildings to the Innovation District.
As the state budget process progresses, we are carefully monitoring each development, as its outcome will be key to funding important new and continuing projects.
I am encouraged by the current conversations taking place in Raleigh about employee compensation. Since arriving at App State, I have been committed to leveraging any authority granted to me by the legislature and the Board of Governors to increase compensation for our employees, and I remain dedicated to doing so.
I will provide an update when we have more concrete information about the budget and how it will affect App State.
Next month, construction will begin on the long-awaited, first academic building of Appalachian State University's Innovation District — the Conservatory for Biodiversity Education and Research. Our targeted opening date for the conservatory is at the beginning of the fall 2025 semester.
The 50,000-square-foot building will be among the nation's first academic research facilities built to the rigorous sustainability standards of the Living Building Challenge. The building will generate more energy than it uses, will be made of environmentally friendly materials, and all of its water will be captured and treated on site.
As the Innovation District develops, it will provide a thriving space where students, faculty and staff work together with industry partners in specialized areas that capitalize on App State's strengths and regional identity. Collaborations across colleges and disciplines will prepare students for career progression in a dynamic work environment. The district will also provide partnership opportunities between the university and regional businesses — providing assets for local industries.
Another economic impact will be on workforce housing, with the creation of nearly 160 new units for faculty and staff. Construction for the project's faculty and staff housing will begin this summer 2023 and conclude in 2025.
The Innovation District project beginning this summer also includes a zero-carbon district energy system, which will begin to transition our Boone campus away from steam power. The energy system is expected to become operational in 2025.
This project is one of several major campus construction projects we're getting underway this summer, including renovations to Wey Hall and to the new Holmes Convocation Center parking deck, both of which will be complete next summer.
This photo of the University Bookstore, with renovations well underway and progressing quickly, was taken on Tuesday. The project includes a comprehensive renovation of more than 15,000 square feet of first-floor retail and service space, with a goal of increasing sales revenue to enhance the bookstore's scholarship contributions for App State students. The new flooring is complete and workers are updating the lighting, digital signage and sound system.
Renovations for the university's two primary dining facilities are slated to be complete by the start of the fall semester, featuring upgrades to the food preparation and service areas as well as food service equipment that is more suitable for self-service.
Renovations to Edwin Duncan Hall are also underway, with a target completion date of spring 2025, and we will begin renovations to Peacock Hall this fall, with a target completion date of summer 2026.
We appreciate the support of our legislators for the funding for many of these projects, and thank you, members of this board, for your support as we work to improve and enhance our campuses to provide the highest quality setting for teaching, research, learning and living — all important elements of the App State Experience.
Many of you know that last week, I was named president of the Sun Belt Conference for a two-year term. My leadership of the conference is good for App State, especially during the conference realignment process. I've been the only chancellor on both committees that nominate any new members to the conference. I thank the conference for the opportunity to serve our institutions and student-athletes, and I look forward to working with my colleagues in the league to further advance the Sun Belt's — and App State's — prestige and success across the nation.
I know many of us are attending App State's Legends Gala this evening. We're looking forward to a wonderful evening and appreciate your support of our student-athletes. Last year was phenomenally successful and made a huge difference for our students. A special thank you to Vice Chair Ricks for your sponsorship of this important event.
And tomorrow evening begins a new season of An Appalachian Summer Festival of music, dance, theater, film and visual arts. It's a season packed with phenomenal talent that will culminate with the much-anticipated Darius Rucker concert, a partnership between the arts and Athletics, on July 29. Thank you, Trustee Schaefer, for your support of the festival. We're looking forward to a terrific season.
I'd like to end my remarks today with a very special expression of appreciation. In the last 10 years, App State has benefitted from the service of Trustee Jimmy Barnes. He has been a steadfast constant since I joined App State. Appointed in June 2013, Trustee Barnes has served as the board chair, vice chair and secretary, and he is a founding member of App State's Board of Visitors. A 1984 graduate, Trustee Barnes has been a wonderful ambassador for the university. Trustee Barnes, on behalf of Appalachian State University, I present you with this gift in appreciation of your service, along with our gratitude for your exceptional leadership and service to Appalachian State University. You demonstrate each and every day that it's always great to be a Mountaineer.
Thank you.
Madam Chair, this concludes my report.