Remarks from the December 2, 2022 Meeting of the Board of Trustees
Remarks by Sheri Everts, Chancellor
Good afternoon and welcome to the first App State Board of Trustees meeting on our Hickory Campus! I'm thrilled that the App State Hickory Campus now comes right up on Google Maps when you search for it! On behalf of the entire university community, I'd like to extend a warm welcome to each of you. I am thrilled to host you here today and would like to take this opportunity to thank you for your support, which has led to our being in this location today. Thank you very much.
Our last meeting took place the same day ESPN's College GameDay bus arrived at App State. This marked a key moment in App State's recent history, and a long-standing goal of mine for App.
It also didn't hurt ESPN's ratings! Their viewership, which ranged from 2.2 to 2.8 million people, increased by 15% over their 2021 viewership for the same week.
What our Athletic Director Doug Gillin likes to refer to as ESPN's "three-hour infomercial" for App State has been valued by our team as having a conservative advertising value equivalency of more than $364,650,000.
Additionally, since September 10th:
nearly 4,000 web and print articles have mentioned both App State and College GameDay, for a total advertising value equivalency of more than $131 million; and


App State and College GameDay were mentioned in 965 separate broadcasts on TV, radio and podcasts, reaching more than 414.6 million viewers and listeners.
We prominently placed "Apply Now" links on all of our College GameDay publicity and have already seen an increase in applications of 25%! We expect to see additional increases in enrollment, fundraising and media interest in the work of our faculty, staff and students as a result of this unprecedented publicity for App State.
The event was so much fun, and we were so excited by Luke Combs taking time between back-to-back concerts to join us as the celebrity guest picker, but my favorite part of the day was awarding a year of tuition and fees to three App State students who won the poster contest. I still can't believe I'm the first chancellor or president to think of doing this!
Last month, during the UNC System Board of Governors meeting, I participated in a panel discussion on the changing landscape of public university leadership. Along with NC State Chancellor Woodson, N.C. A&T Chancellor Martin and UNC Pembroke Chancellor Cummings, I discussed topics that included the increasingly important role of college athletics for universities. We also discussed student success, campus safety, state funding for higher education, lessons learned from COVID, the future of college enrollment and building strong leadership teams. I was privileged to join this group of longest-serving chancellors in the UNC System as we shared our perspectives.
During their November meeting, the board recognized two members of App State's police department who received Awards of Valor. Capt. Johnny Brown and Officer Tylor Greene were honored for their acts of bravery and heroism. On behalf of the entire App State Community, I congratulate them on this well-deserved honor and extend our thanks for their outstanding service to App State and the greater community.
The board also approved a new performance-based funding model for System institutions. As it has been developed, discussions around this new funding model have been taking place on our campus and across the System. The new funding model will incentivize enrollment growth as well as student outcomes that include university productivity, affordability, graduation rates and align with the goals outlined in the board's five-year Strategic Plan.
This is the slide that was projected during a discussion of campus enrollment. As you can see, App State is in a position of strength in this regard. We will continue to share updates on the funding model and what it will mean for App State.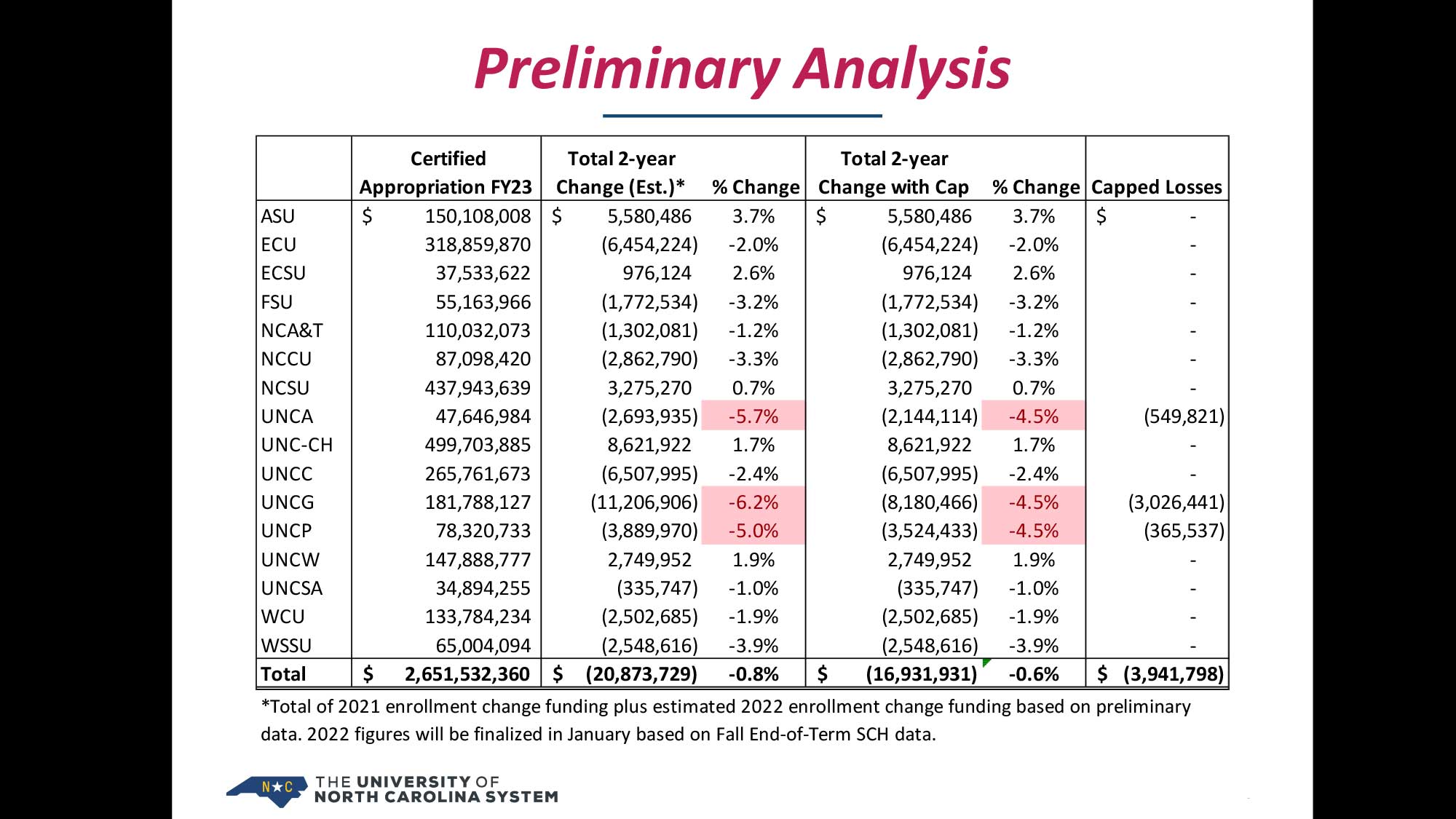 Earlier this week, we held a holiday celebration for faculty and staff. The Grandview Ballroom, the room in which this board usually meets, was filled with nearly 400 employees who were catching up, sharing stories, networking, laughing and getting some business done over a glass of wine, live music and excellent food, including a s'mores-making station. This is the first time since before COVID that we have had an employee event that was so well attended, and the largest attendance ever to our holiday party. The room was full of energy from passionate and engaged employees who are excited about their work, and it was invigorating. Thank you to Margaret McCoy, Chef Tony and the phenomenal App State University Events and Catering teams!
Just a few days prior, the same room was filled with local students ranging in age from 5 to 18, riveted by a presentation from Dr. Baker Perry about his National Geographic expeditions to Mount Everest. They had spent the morning with science educator Jeff Goodman, who — among other fun antics — demonstrated physics by standing on his head and drinking water … and they also got to get up close and personal with App State's winning solar vehicle and our phenomenal solar vehicle team.
After lunch with me, during which I provided each of them with a book, they got autographs from Yosef, a tour of the Athletics training room and special access to the football field.
These students are, as we call them, our AppKIDS, a group of local children who have been identified by their school counselors as being in financial need. As many of you know, the AppKIDS program, begun by our Staff Senate and sustained by generous donations for 42 years, ensures that these children receive much-needed clothing, school supplies and hygiene items. For many of the children, this event is the only time of year they are able to get new clothes. With generous support from Trustee Ricks and other donors, we have been able to extend this program beyond the annual winter shopping trip to fun and educational experiences throughout the year.
Those of us who have volunteered to spend time with these children can tell you it is one of the most rewarding experiences a person can have, and we see the benefits of it lasting generations. Some of our staff who were beneficiaries of this program as children are now volunteers for the program.
I want to thank Vice Chair Ricks, in particular, for your generous support for AppKIDS. We are ensuring these students not only have some very immediate needs met, but that they also see the possibility of a college education in their futures.
During Thanksgiving Break, Campus Dining staff, along with volunteers, served 127 meals to students who live in residence halls who were not able to go home for the break.
Students were able to get made-to-order, hot meals from the grill, as well as a turkey dinner on Thanksgiving.
International students, those who must work over the break and those who don't have stable housing often remain in our residence halls during breaks, and they were very appreciative!
Thank you to the Campus Dining team for going above and beyond during the holidays.
Scholarship support remains a top fundraising priority for us. It is critical to our remaining competitive in the higher education landscape and to fulfilling our mission of increasing access to education for the people of North Carolina.
Last month, I spent an evening with the Chancellor's Scholars, more than 50 students who have earned full institutional costs for four years through the most competitive academic scholarship at App State. These incredible scholars are completing undergraduate research in the areas of chemistry, forensic science, exercise science, music therapy, biology, marketing, public administration, political science and many others. On this evening, they wanted to be together — in person — to celebrate, and it was a lovely get-together.
Throughout the year, we have celebrated our student scholarship recipients at a number of events. Whether they are our Diversity Scholars who are breaking barriers for underrepresented students at App State and beyond, Golden LEAF Scholars who are working to end food insecurity in their communities or students whose futures would not include college without financial assistance, they are working hard, earning their degrees and contributing to their communities every day.
With the benefit of the best public undergraduate education in the Southeast, strong mentorship from passionate faculty and support from staff who help ensure their success, these students are making real and powerful differences in communities across the state and region now and creating a bright future for themselves and generations to come.
In the last year, we awarded academic scholarships and aid to more than 8,000 students based on scholarly abilities, academic achievements and financial need. Nearly half of these recipients identified as first-generation college students.
Nearly 70% of App State students rely on some form of financial assistance to pay for college. The global pandemic amplified the need for financial support for students from rural areas, those who are first-generation college students and students from underrepresented populations, in particular. In the last fiscal year, we raised more than $36 million in support of our students, and nearly 40% of our students received scholarship support.
As a first-generation college graduate myself, I know first-hand — just as everyone in this room knows through your own experiences — that education changes lives, for generations.
As we sit in this new building, anticipating a future in which App State will help meet the needs of even more people in the region, we understand keenly that increasing scholarship support is key to ensuring access for even more students to an education at the premier public undergraduate institution in the Southeast.
Many of you have contributed to support our students. Your gifts are making real and powerful differences. I thank you so very, very much!
With our steady enrollment growth and demand for on-campus housing for new first-year and transfer students, coupled with limited student housing development in the off-campus market, Vice Chancellor J.J. Brown and his Student Affairs team regularly review our Master Plan for student housing. A new housing master plan and demand study, to assist with long-term planning, will be completed in spring of 2023.
To meet anticipated short-term demand, we will enter into a service agreement with the Sleep Inn in Boone for the 2023–24 academic year, and we have modified the timing of Newland Residence Hall's renovation. Combined, these actions will ensure more than 300 additional beds will be available for new, incoming first-year and transfer students in fall 2023.
This year saw additional advancement with our lab schools. As we congratulated our fourth class of graduating mini-Mountaineers from App State's first lab school, the Appalachian State University Academy at Middle Fork, in Walkertown, we were planning the opening of our second lab school — the App State Academy at Elkin. Combined, the two schools serve more than 370 students in kindergarten through fifth grade.
As you know, we are now the only UNC System institution to operate two lab schools. We greatly appreciate the strong and steady leadership from Dean Spooner and the amazing collaborative team in the Reich College of Education for their work with these academies, which are becoming models for student success across the state of North Carolina. We also appreciate the strong support from Gov. Byers, who is a champion for the success of young people throughout the entire state and has been a leader in ensuring the continued support and success of our lab schools. Thank you, Gov. Byers.
Earlier this week, Trustee Chesson, who sits on the Elkin Academy Advisory Board, visited the third grade class he has "adopted" to learn about what they are studying (and I understand he also brought them a giant bag of candy — Mars candy, I assume!) As I know Trustee Chesson can attest, spending time with our mini-Mountaineers is inspiring, and it reminds us of the power of a strong connection between elementary education and higher education. Each of these students can now see a college education in their future. Thank you, Trustee Chesson.
Along with Professor James Sherman in the Department of Physics and Astronomy, three App State students received NASA-funded North Carolina Space Grants to conduct research relating to aerospace and aviation. The program supports aeronautics and space-related science, technology, engineering and mathematics education. Ethan Barber, a senior from Durham, majoring in applied physics, Matthew Allen, a graduate student from Chapel Hill, and Samuel DeMay, a graduate student from Charlotte, both pursuing Master of Science degrees in engineering physics, will participate in pertinent research as they work toward future scientific and technological breakthroughs. We look forward to learning about the results of their research in the future.
In October, Provost Norris and I were pleased to celebrate two faculty members who are the recipients of our Excellence in Research, Scholarship and Creative Activity awards:
Dr. David Koppenhaver, professor in the Department of Reading Education and Special Education, received the Chancellor's Award. His research focuses on literacy in individuals with high-intensity needs, including children with autism, cerebral palsy and intellectual disabilities. His teaching and research have contributed to improved understanding, enhanced teaching methods and the development of new diagnostic assessments in special education.


Dr. Maggie Sugg, associate professor and departmental honors director in the Department of Geography and Planning, received the Provost's Award. Her research provides insights into environmental-health diseases, highlighting both at-risk populations and the place-based conditions that lead to adverse health outcomes.
These faculty and students are shining examples of a key distinguishing factor that sets App State apart from many other institutions: Our undergraduate and graduate students are able to directly engage in advanced-level research with faculty who mentor and guide them as they further develop their research methods skills and follow their academic passions.
The best biennial budget in university history included a 6% across-the-board salary increase, as well as authority to give additional recurring merit and equity increases and one-time bonuses to eligible employees. Last year, we took full advantage of every opportunity to increase compensation.
In total, over the last 12 months, all eligible faculty have received an increase of at least 6% (across the board), and as much as 11% for those with highest merit. Some have realized even more than 11%, with equity and inversion adjustments applied.
We greatly appreciate the support from our state legislators and Gov. Cooper, from the Board of Governors and from this Board as we continue leveraging every opportunity allowed by legislative and UNC System authority and available funding to increase compensation for every employee.
As I provide you with a capital projects update, the information I am going to share with you today primarily relates to App State's six-year plan, which is one component of the UNC System's six-year plan.
Our six-year plan includes our College of Business building, our Innovation District, the App State @ Hickory Campus and the demolition and replacement of I.G. Greer Hall with a new Science, Technology, Engineering and Math academic facility.
The best biennial budget in App State history allocated nearly $123 million in funding for App State's capital repairs and renovation and initiative support.
These named and new appropriated capital improvement projects are included in the plan in phases, some of which have already received funding through the best biennial budget in university history.
Wey and Duncan halls are two examples of the badly needed repairs and renovations we will be able to complete, thanks to more than $43 million included in the best budget ever for App. We take every opportunity to showcase what we can do and are doing with this critical funding, to create a state-of-the-art college experience that is affordable for all of our students.
A total of $15 million was included in the budget for renovations to Wey Hall, the building that currently houses our Department of Art. Fifteen hundred students each semester have been taking 141 classes each week in this building, which was built in 1976 and has never been renovated. It lacks fire suppression and sprinkler systems. Other major building systems are also reaching the end of their useful lives, including plumbing, elevators, and electrical, heating and cooling and ventilation systems. Wey Hall's renovation is scheduled to begin in 2023 and be completed in fall 2024.
Nearly $21 million was allocated in the biennial budget for renovations of Edwin Duncan Hall, which was constructed in 1965. In addition to office and classroom space, this 98,000-square-foot academic building houses the Dean's Office of App State's College of Fine and Applied Arts, which enrolls more than 3,000 students and is made up of seven academic departments.
Renovations will improve and adapt the space to create more technologically advanced classrooms; add and refurbish elevators; make repairs to the building's exterior; install a new sprinkler system; and completely revamp the facility's HVAC system. Project construction is slated to begin in fall 2023 and we expect it to be complete in spring 2025.
One of the most pressing capital improvement needs we have on the Boone campus is to replace I.G. Greer. A new STEM building would greatly expand the STEM classroom capacity. This is a priority funding project that is second only to phase one of the Hickory building in our six-year plan.
The biennial budget included $25 million for renovations to our College of Business building. Construction will begin in fall 2023, and the addition to the building is slated to open in 2025. We plan to daylight Boone Creek as part of this project as well, which will transform a parking lot into a beautiful place for research and education while also improving the resilience of our natural ecosystems.
The best biennial budget in university history included $54 million to begin work on the Innovation District project. We are also pursuing public-private-partnership agreements, which will require no capital outlay, for the district's first phase.
The Innovation District will bring together multi-discipline expertise, extending the university's mission of teaching, research and service.
Phase one of the project will include a Conservatory for Biodiversity Education and Research, paired with the adjacent Nature Preserve. The conservatory will facilitate cross-disciplinary collaboration, encourage K–12 partnerships and advance knowledge, contributing to the economic health and development of the rural areas in our state and region.
The conservatory will build on existing opportunities available through the Department of Biology's teaching and research facilities. Construction for the conservatory is slated to begin in summer 2023, with a targeted opening date of fall 2025.
The P3 projects in phase one will include affordable employee housing that will not rely on state funds, or any capital from the university. Construction for the faculty and staff housing is slated to begin in winter of 2023 and conclude in 2025.
The third aspect of the phase one District concept, also a P3 project, is a zero-carbon energy system that will begin to transition our campus away from steam power. This project will also require no state funds or university capital. We expect the system to become operational in summer 2025.
In the best biennial budget in our history, phase one of the App State @ Hickory project received $9 million in nonrecurring funding. This was the largest allocation to any UNC System campus, and it speaks to the confidence our lawmakers have in App State's ability to serve what was previously the largest metropolitan area in North Carolina without a public university.
We have been focusing on readying the building for the beginning of classes in fall 2023, with work taking place on the building roof and envelope, plumbing and HVAC and IT upfitting. The more visible upgrades have included installing the exterior signage on the building, which, as you'll recall, was cleaned for us by the City of Hickory, making it much brighter than it was when we bought the building, just over a year ago. Our exterior signage now lights up at night, making our building a great deal more visible after dark.
In Catawba County, 19% of the adult population ages 25–44 have earned a bachelor's degree; 13% have an associate degree.


In Caldwell County, 13% have a bachelor's degree; 12% have an associate degree.


In Burke County, 11% have a bachelor's degree; 15% have an associate degree.
App State is ready to help meet a need for educational attainment with a high-quality, affordable degree from the premier public undergraduate educational institution in the Southeast.
Partnerships with the City of Hickory and other local government, education, civic and business leaders have allowed us to hold listening sessions with many constituency groups representing Hickory and the surrounding areas. Through these, and the meetings of the App State @ Hickory Advisory Council, which has representation from key leaders in the Hickory area, we have learned much about what the area needs and expects from its state university.
Common themes that have emerged as needs include innovation, arts and culture, recreation, child care, student support and academic areas that include business, education, health care, engineering, design and building sciences. There are also numerous possibilities for the Hickory area to engage with the university's sustainability initiatives.
I will now invite Provost Heather Norris to provide further information about our plans for fall 2023 and beyond.
---
Good afternoon, everyone. I'd like to begin by thanking Chancellor Everts for her leadership and guidance as my academic leadership team and I have worked to develop an academic plan that meets the needs of the Hickory area.
To date, we have synthesized more than 400 individual comments from campus and community members. We are truly grateful to all of these groups and individuals for the time and insights they have contributed to our planning effort.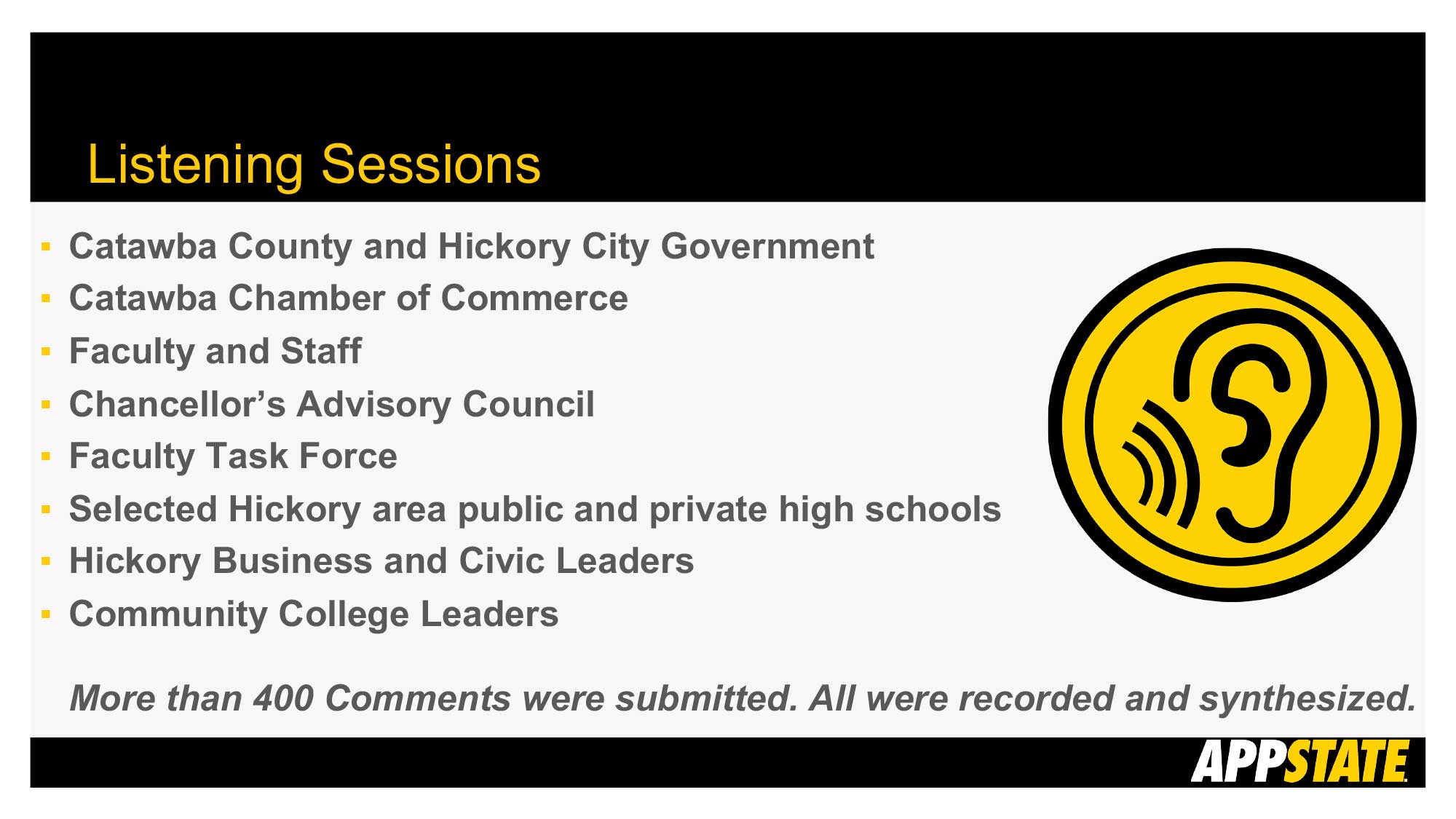 As Chancellor Everts shared, we are excited to welcome students to campus in the fall. In fall 2023:
High school students who want to get a four-year degree at App State can do so at the Hickory Campus without paying room and board expenses.
Students with associate degrees who want to earn a degree in business will be able to do so on our Hickory Campus.
Adult learners who have started a degree but had to "stop out" of college before completing their degree can take the classes they need in Hickory to graduate from App State.
This slide demonstrates how we will add to our program offerings over time. In fall 2023 we will offer:
Basic education courses for students who want to get an App State degree while attending classes at our Hickory Campus.
Business classes, to include accounting, finance, information technology, management, marketing and supply chain management; a supply chain management program; and a broad-based professional studies program for those who want to design a four-year degree, complete a degree they have begun with a specialization in business, or turn their associate degree into a four-year business related degree.
Elementary education teacher preparation, for those who wish to complete a degree they have begun with a specialization in teaching, or turn their associate degree into a four-year elementary education degree.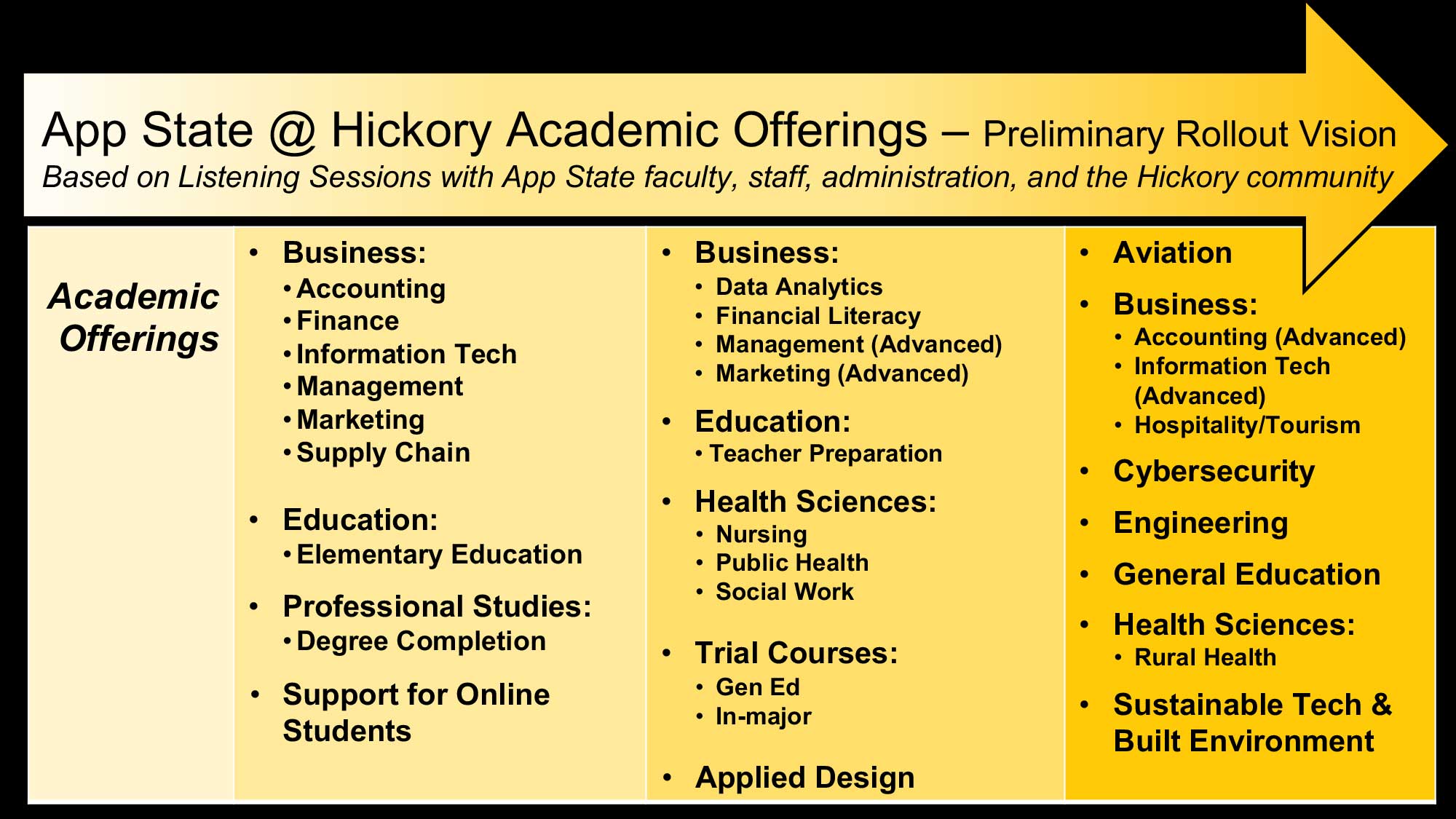 The progression of our program offerings will include (as you go left to right):
Expansion of business offerings, through data analytics and financial literacy, hospitality and tourism, and more advanced accounting, information technology, marketing and management offerings.
Health sciences programs, including nursing, public health and social work, and programs focused on rural health care to meet the needs of the region.
Programs and courses offered through the Department of Sustainable Technology and the Built Environment and Applied Design/Digital Fabrication.
General education courses, as well as major-specific courses needed for students to complete their degrees efficiently, and for those who transfer in with Associate degrees, will be offered in accordance with demand.
Engineering, cybersecurity and aviation are in our long-term discussions, and we are reviewing our current academic offerings to evaluate current courses as foundational pieces for these programs in the future.
In addition, we will offer a range of services on site at the Hickory Campus, including admissions, advising and transfer student services, tutoring and career development, and support for students who wish to take online classes.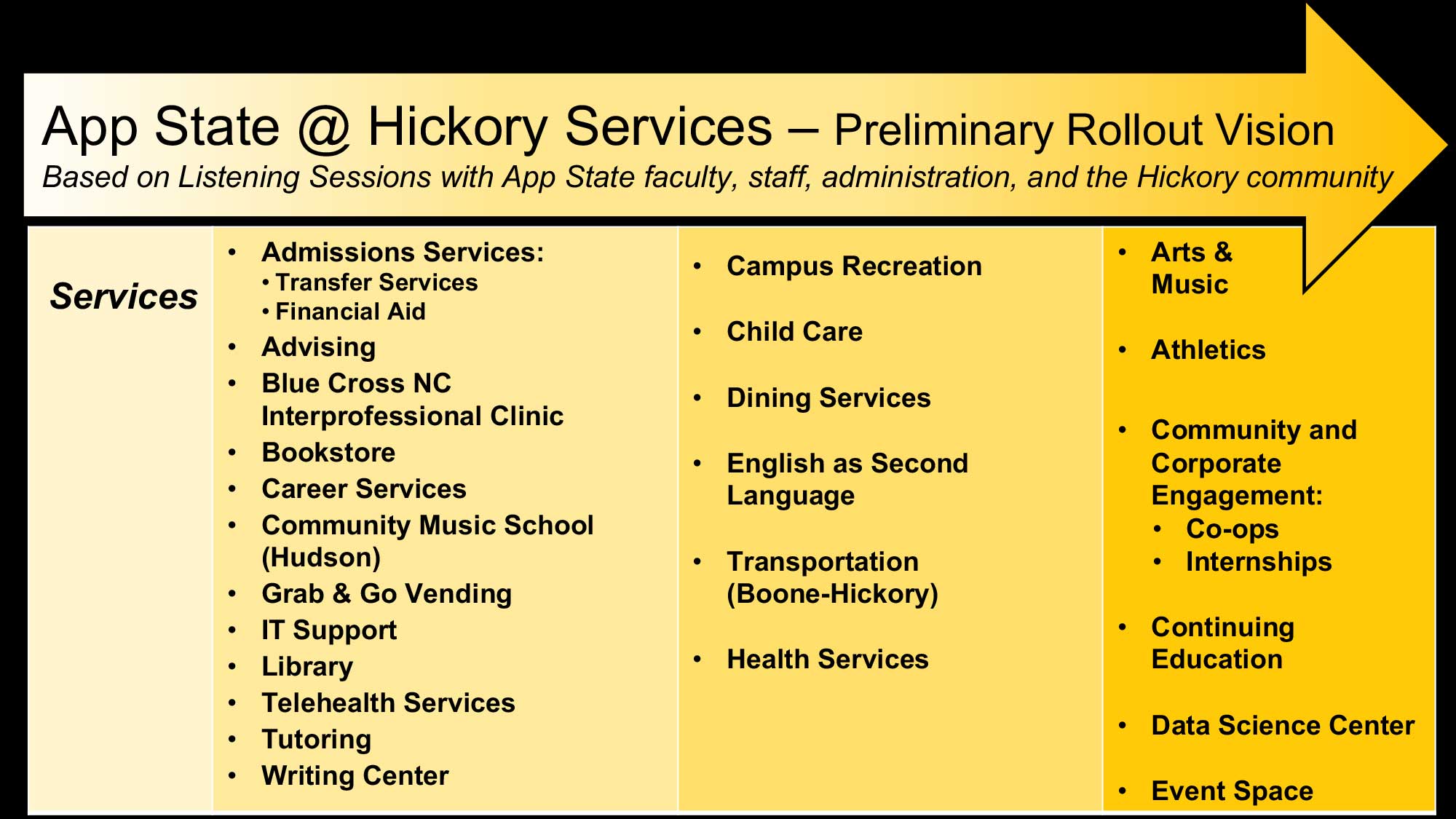 Interprofessional clinical services for the area through App State's Blue Cross and Blue Shield of North Carolina Institute for Health and Human Services will be located here.
Discussions about future additional services include child care and on-site student health care, performing and visual arts, a data science center, and opportunities for community and corporate engagement.
We will roll out more extensive academic programs and student services in a phased approach — and we will continue to build upon them over time.
Thanks again for the opportunity to share this information today.
---
Thank you, Heather. We have indeed come a long way since just over a year ago, when I purchased this building, and there is such exciting progress taking place now and on the horizon!
This morning, during your committee meetings, you heard from students, faculty and staff about the successes in the areas of academics, athletics and student affairs.
Two weeks from today, we will celebrate the work we all do together, and the reason we are all here, Commencement. Nearly 1,500 graduating students will cross the commencement stage to honor one of the most significant achievements in their lifetimes. Commencement is the ultimate celebration of the college experience, and it is my favorite time of the year.
We will hold three ceremonies, at 9 a.m., 1 p.m. and 5 p.m. Each ceremony will be livestreamed for those who cannot attend in person.
As we near the completion of an incredibly successful and exciting semester, I would like to thank each of you for your unwavering support of — and advocacy for — App State's students, faculty and staff. We have much to be proud of, and many exciting initiatives underway, all of which will benefit the people of North Carolina. Thank you for your advocacy in our mission to continue providing access to education at the premier public undergraduate institution in the Southeast!
On behalf of the App State Community, I wish you a wonderful holiday season and I look forward to sharing more of App State's successes with you in the new year.
Madam Chair, this concludes my remarks.